Born on November 1, 1979 in Elassona (Greece), is a graduate of Psychology and member of the American Psychological Association, also studied computer science and electrical engineering. He lived in Kozani, Kavala (Greece) and in Tilburg, (the Netherlands). Resides in Ravels Belgium. He is a founding member of the Hellenic Community Turnhout-Kempen in Belgium and the Hellenic Federation of Communities in Belgium.
Is performer of the bouzouki, guitar, tambouras and keyboards. Attended bouzouki lessons from Theodore Kaklani in Elassona, aged 11 and 12 years. In 2010 he attended classical piano lessons from Olga Mertsalova in Grosveld conservatory in Tilburg, the Netherlands. Engaged in music composition, lyrics and poetry.
He was a founding member of the ensemble "Terirrem" Elassona on 1998. He is a member of the Association Panthessaliko music, the Music Association of Northern Greece and member of the band "De Zingende Zaag" in Belgium since 2014.
He worked at various various locations carried out professional work in the music sector, took part in cultural events of associations and political parties, participated in the Festival of young artists "Nicholas Asimos" in Kozani, from 2006 to 2014 and the same period in "Cultural Lassaneia" (Kozani) in 2005, 2006 and 2007. He worked with the Department of Culture of the Municipality of Kozani, with "Kozaniti Takimi" and the "Kozanitiki fanfare".
In 2015 he participated on the music festival in Masseik (Belgium), as a member of the music band "De Zingende Zaag". In 2016 he participated on the 2nd Farmfestival in Weelde and on the Dorpspicknick of the municipality of Ravels and the celebrations of Greek local community.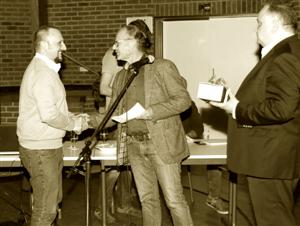 On 2016 received a music career award from the Belgian municipality of Ravels, since October 2016 is a board member of the cultural counsil of the municipality.
---